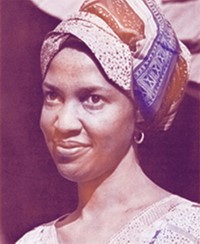 Sr. Thea Bowman, Servant of God
Thea was born on December 29, 1937 in Yazoo City, Mississippi. She was the granddaughter of a slave and the only child of a doctor and a teacher. Her father was practicing in New York, but an aunt convinced him to up and leave for Mississippi to bring quality medical care amidst the facism and prejudices inherent in the South.
The Franciscan Sisters of Perpetual Adoration from La Crosse, Wisconsin, opened a school in her Canton, Mississippi, hometown. They built a Church and a school to provide for the spiritual and educational needs of the Black children, whose education suffered from the effects of segregation. It was the Gospel joyfulness of those missionaries that impressed Thea and inspired her to convert to Catholicism at the age of nine. Thea exuded that Gospel joyfulness all her life.
At age fifteen, Thea left her hometown to enter as an Aspirant. Thea experienced open racial prejudice while there and she perservered through hard times. Her outgoing demeanor and tenacious love of Christ and the Church won over many of her detractors.
Thea was intellectually gifted. Sister Thea was assigneed to teach grade school in La Crosse, and then eventually at her home in Canton, Mississippi. She left there in 1965 to head to the Catholic University of America in Washington D.C. She earned her masters and doctorate in English. She then accepted a professorship at her alma mater, Viterbo College.
Through the turbulent times of the Civil Rights era, Thea wanted to bring great awareness of her beloved culture and promote greater harmony and mutual respect among people who looked different from one another. In 1978 she returned home to take care of her aging parents. She served as director for intercultural affairs in the Diocese of Jackson. In her work of overcoming the divisions in the Church and Society, she was one of the founding faculty meembers of the Institute for Black Catholic Studies at Xavier University in New Orleans.
1n 1984, after burying both of her parents, Sister Thea was stricken with breat cancer. The chemotherapy treatments weakened her pysically to the point where she needed a wheel chair much of the time. She maintained her work touring the world giving speeches and addresses. About a year before her death, she was invited to address the Bishops of the United States. She gave a rousing speech articulating the Black Catholic experience in the United States, and the need for their fuller participation in the life of the Church which was met with a standing ovation.
Sister Thea died on March 30, 1990 and the cause for her canonization was opened in 2018 where she was declared 'Servant of God', the first step toward canonization.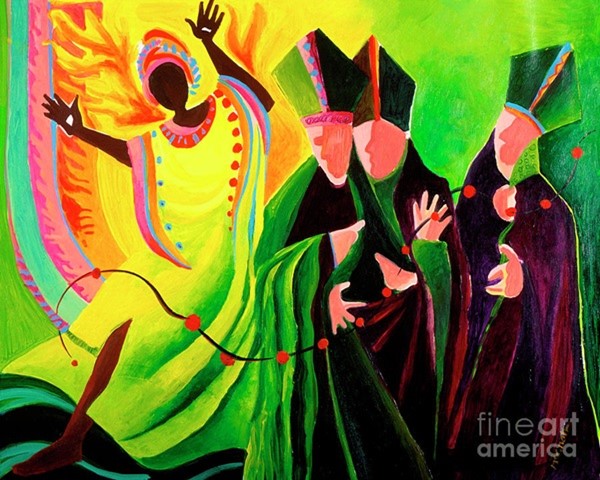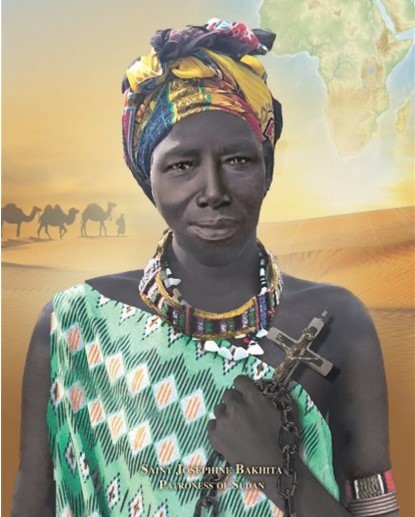 St. Josephine Bakhita
St. Charles Lwanga & Companions
The persecution started in 1885 after Mwanga, a ritual pedophile, ordered a massacre of Anglican missionaries, including Bishop James Hannington who was the leader of the Anglican community. Joseph Mukasa Balikuddembe, the Catholic major-domo of the court and a lay catechist, reproached the king for the killings, against which he had counseled him. Mwanga had Balikuddembe beheaded and arrested all of his followers on 15 November 1885. The king then ordered that Lwanga, who was chief page at that time, take up Balikuddembe's duties. That same day, Lwanga and other pages under his protection sought baptism as Catholics by a missionary priest of the White Fathers; some hundred catechumens were baptized. Lwanga often protected boys in his charge from the king's sexual advances.
On 25 May 1886, Mwanga ordered a general assembly of the court while they were settled at Munyonyo, where he condemned two of the pages to death. The following morning, Lwanga secretly baptized those of his charges who were still only catechumens. Later that day, the king called a court assembly in which he interrogated all present to see if any would renounce Christianity. Led by Lwanga, the royal pages declared their fidelity to their religion, upon which the king condemned them to death, directing that they be marched to the traditional place of execution. Three of the prisoners, Pontian Ngondwe, Athanasius Bazzekuketta, and Gonzaga Gonza, were murdered on the march there.
When preparations were completed and the day had come for the execution on 3 June 1886, Lwanga was separated from the others by the Guardian of the Sacred Flame for private execution, in keeping with custom. As he was being burnt, Lwanga said to the Guardian, "It is as if you are pouring water on me. Please repent and become a Christian like me."
Twelve Catholic boys and men and nine Anglicans were then burnt alive. Another Catholic, Mbaga Tuzinde, was clubbed to death for refusing to renounce Christianity, and his body was thrown into the furnace to be burned along with those of Lwanga and the others. The ire of the king was particularly inflamed against the Christians because they refused to participate in sexual acts with him. Lwanga, in particular, had protected the pages. The executions were also motivated by Mwanga's broader efforts to avoid foreign threats to his power. According to Assa Okoth, Mwanga's overriding preoccupation was for the "integrity of his kingdom", and perceived that men such as Lwanga were working with foreigners in "poisoning the very roots of his kingdom". Not to have taken any action could have led to suggestions that he was a weak sovereign.